Une rarissime guitare de Pierre Louvet
Pierre Louvet (1709-1784) a fabriqué pour la cour et les musiciens parisiens les plus beaux instruments et a acquis une renommée d'excellence qui lui a valu le surnom de "Stradivarius de la vielle"…

Par Françoise et Daniel Sinier de Ridder
---
Le Stradivarius de la vielle
Pierre Louvet (1709-1784) est le fils de Georges Louvet, discret luthier parisien originaire de Normandie, proche du luthier Pierre Tourte. Georges Louvet au début du 18e siècle fut connu pour ses vielles à roues. Pour suivre les besoins de la mode et de la pratique musicale, il modifia et transforma avec talent nombre d'instruments anciens, luths, guitares, en vielles à roues.
Les deux fils de Georges, Pierre et Jean (1718-1793) devenus luthiers à leur tour ont fabriqué pour la cour et les musiciens parisiens les plus beaux instruments. Ils ont acquis une renommée d'excellence et Pierre Louvet sera surnommé "le Stradivarius de la vielle"…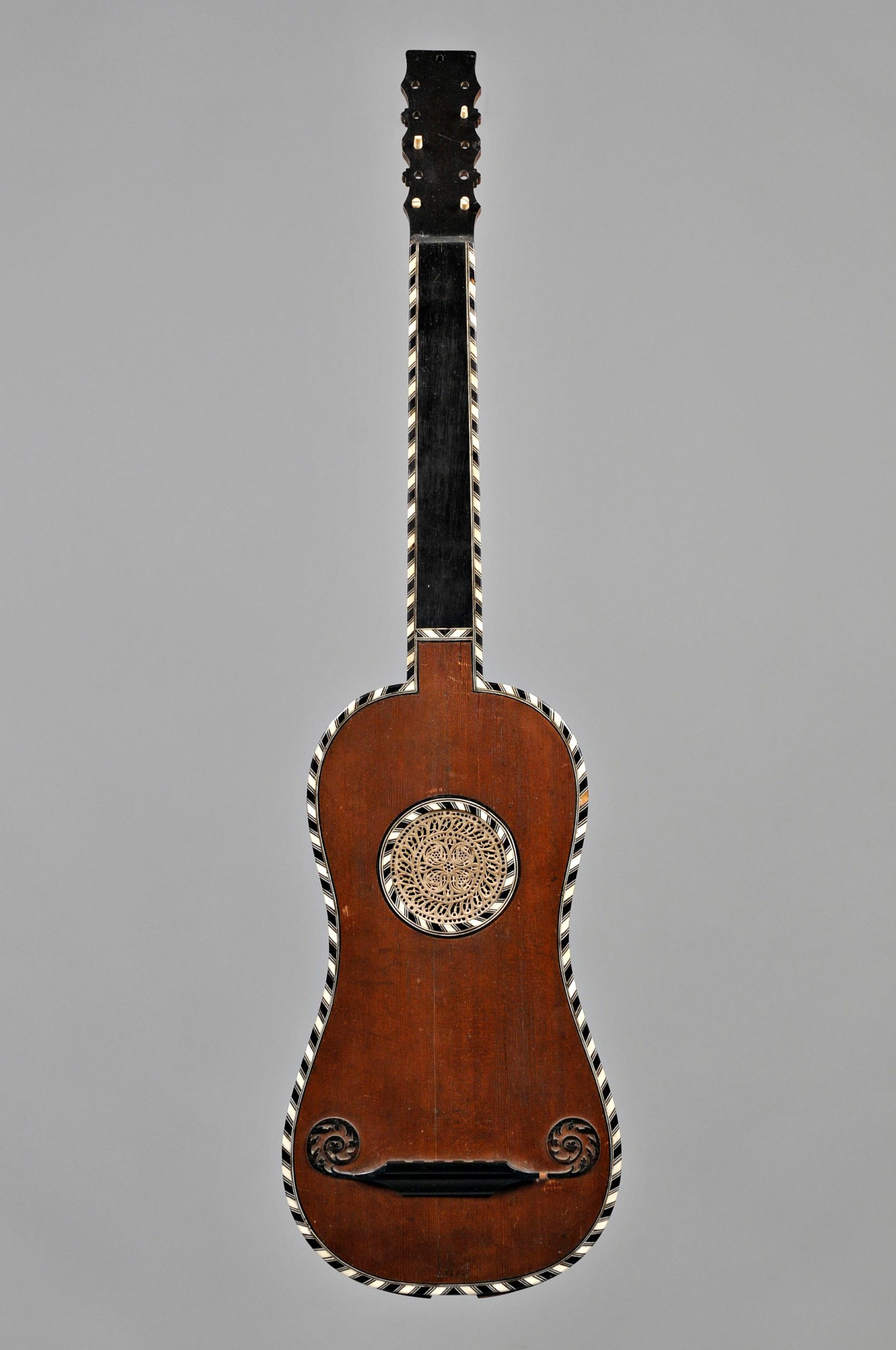 Vielles, mandolines, cistres… et guitares
On connaît peu de guitares de ce luthier, mais les '"inventaires après décès" établis par les luthiers Cousineau et Saint-Paul ne laissent pas de doutes ; dans les importants stocks de bois et d'instruments divers à inventorier on compte de nombreuses fournitures, chevilles, rosaces et marqueteries destinées à fabrication de la guitare.
On y voit aussi que Pierre Louvet fabriquait des vielles mais aussi des mandolines, des guitares, des cistres et d'autre instruments encore.
Cette guitare faite à Paris en 1760 comme l'atteste l'étiquette originale, porte la marque au fer de Pierre Louvet au bas de la table. La caisse est faite de bandes d'acajou intercalées de filets composés, la table est en épicéa et conserve sa rosace originale en parchemin, enfin une pistagne typiquement parisienne orne les pourtours de l'instrument.
Sur cette guitare nous pouvons encore observer
les influences du 17e siècle. Le patron général, la façon particulière de monter les filets ou d'assembler les éclisses, et surtout le profil de la tête et l'étroitesse du manche nous rappellent les guitares prestigieuses de la dynastie des Voboam.
La comparaison avec une autre guitare vendue à Vichy le 10 juin 2006, faite par Lambert à Paris en 1775, également formée d'une caisse faite de bandes de bois alternées, décorée de pistagnes parisiennes et d'une rosace en parchemin, nous montre comment en 15 ans la lutherie de la guitare a évolué pour se préparer au bouleversement qui va marquer son histoire et son répertoire :
le passage aux 6 cordes.
Françoise et Daniel Sinier de Ridder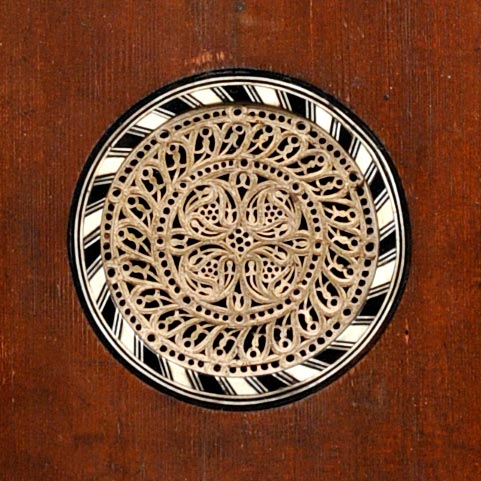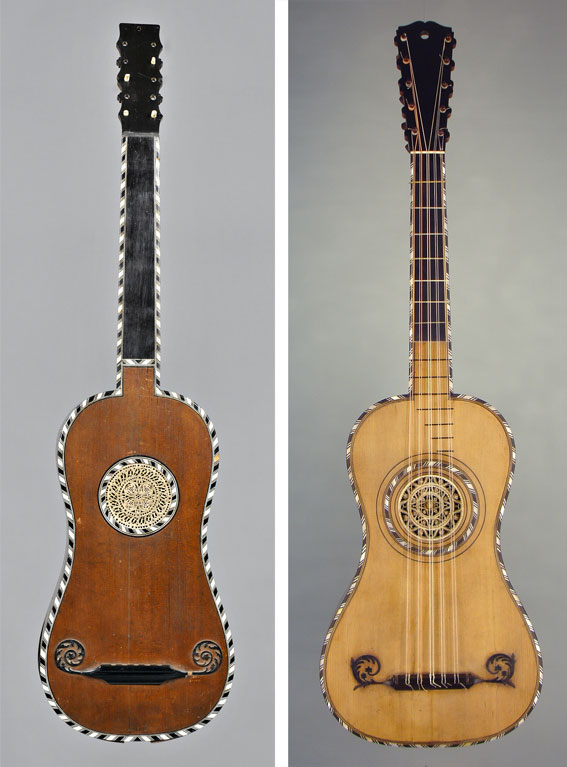 ---
AN EXTREMELY RARE GUITAR BY PIERRE LOUVET
Pierre Louvet (1709-1784) made the most beautiful instruments for the Court and the Parisian musicians and gained a reputation for excellence which earned him the nickname of "the Stradivari of the hurdy-gurdy".  

By Françoise et Daniel Sinier de Ridder
---
The Stradivari of the hurdy-gurdy
Pierre Louvet (1709-1784) is the son of Georges Louvet, an inconspicuous Parisian maker originally from Normandy, who was close to the maker Pierre Tourte. At the beginning of the 18th century, Georges Louvet was known for his hurdy-gurdies. To meet the demands of musical tastes and practices, he skilfully modified and transformed a number of old instruments, such as lutes and guitars, into hurdy-gurdies.
Georges' two sons, Pierre and Jean (1718-1793), who in turn became makers, made the most beautiful instruments for the Court and the Parisian musicians. They gained a reputation for excellence and Pierre Louvet was nicknamed "the Stradivari of the hurdy-gurdy".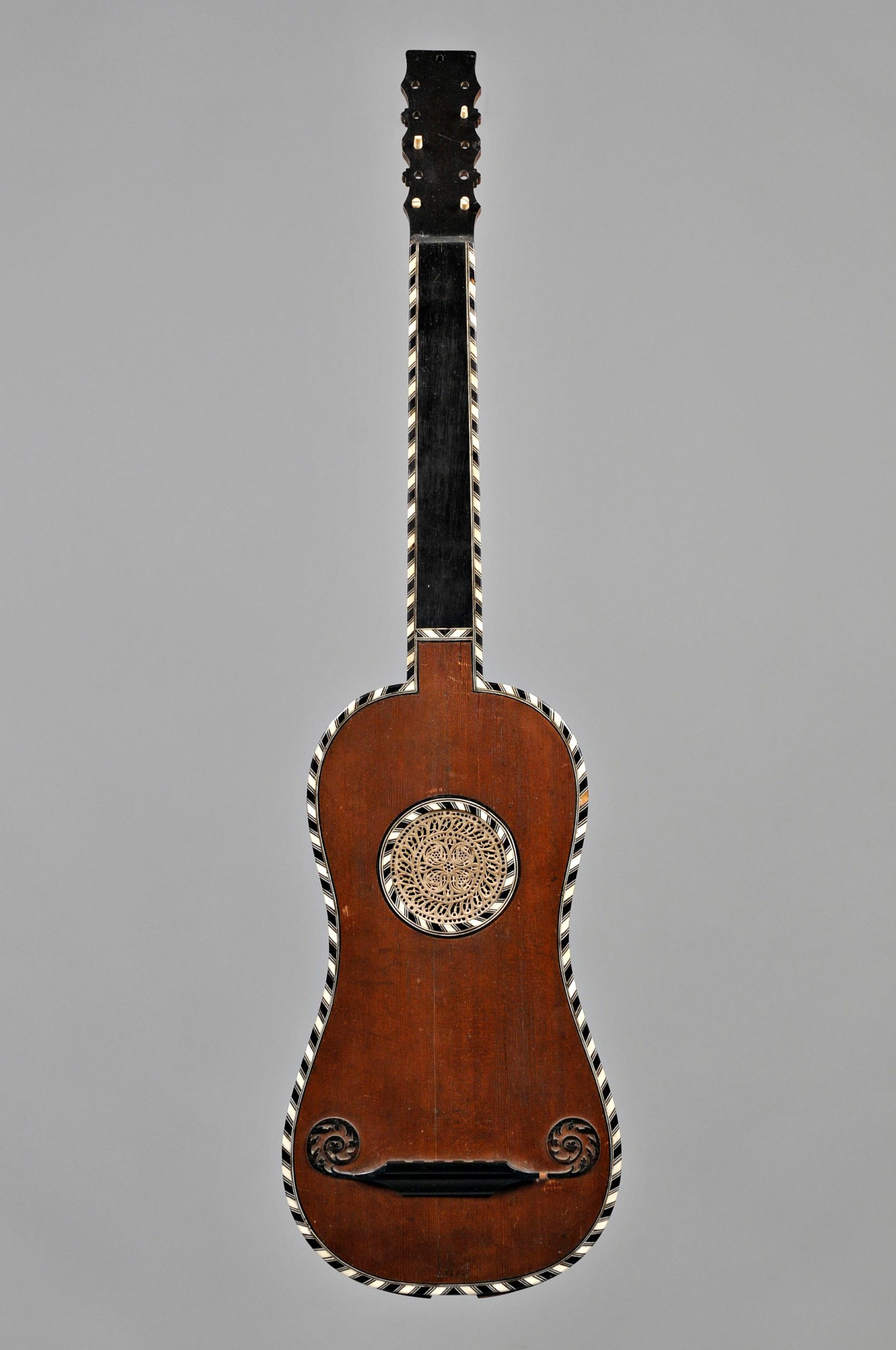 Hurdy-gurdies, mandolins, citterns… and guitars
Few guitars by this maker are known, but the post-mortem inventory of his workshop carried out by makers Cousineau and Saint-Paul leave no doubt: within the large stocks of wood and various instruments left behind, there were many fittings, including pegs, rosettes and marquetry, intended for the manufacture of guitars. It is clear from this inventory that Pierre Louvet not only made hurdy-gurdies, but also mandolins, guitars, citterns and other instruments.
This guitar, made in Paris in 1760, as the original label states, bears the iron brand of Pierre Louvet at the bottom of the front. The back and sides are made of mahogany sections separated by composite purfling; the front is made of spruce and still features its original parchment rosette; and finally, a typically Parisian strip of marquetry adorns the edges of the instrument.
Seventeenth century influences are still perceptible on this guitar. The overall model, the particular method with which the purfling was fitted and the sides were assembled, but mostly the headstock profile and the narrow neck are all reminiscent of the prestigious guitars of the Voboam dynasty.
The comparison with another guitar sold in Vichy on 10 June 2006, made by Lambert in Paris in 1775, also with a body made from alternating bands of wood, decorated with Parisian-style marquetry and featuring a parchment rosette, demonstrates how, in the space of 15 years, guitar making had evolved to prepare for the upheaval that revolutionised its history and repertoire: the transition to six strings.
Françoise et Daniel Sinier de Ridder