Hommage à Raymond Chance et à sa passion pour les vielles
La vente du 7 mai 2022 devrait réjouir les amoureux des vielles à roue puisqu'un riche ensemble d'une quinzaine de modèles de maîtres provenant de la collection du facteur Raymond Chance sera dispersé. Toute l'équipe de Vichy Enchères tient à rendre hommage à cette personnalité à part dans le monde de la musique et de la facture d'instrument, un passionné d'instruments anciens toujours soucieux de transmettre son savoir et de partager sa passion. Familier des ventes de Vichy Enchères, nous avons eu le plaisir de le côtoyer durant toutes ces années, tout comme beaucoup de nos amis musiciens et experts, à l'image de Françoise et Daniel Sinier de Ridder. Ces derniers nous offrent aujourd'hui un beau portrait de ce grand collectionneur et connaisseur de vielles…
---
Raymond Chance, un géant magnifique, passionné et passionnant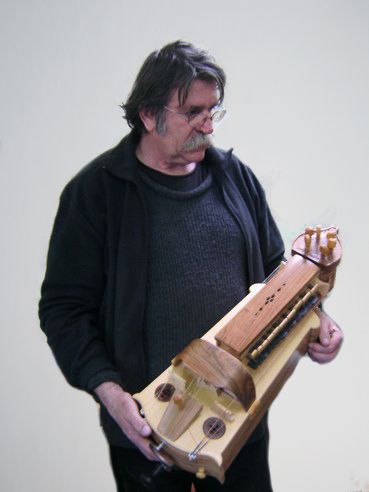 "Raymond Chance est né en Haute-Garonne, dont il gardera toujours l'accent tonique et chantant, en mars 47 est décédé à La Séchère le 23 août 2019.
Après une première partie de vie sur laquelle il a toujours préféré rester discret, il découvre la lutherie et tout particulièrement les instruments médiévaux. Passionné, il suit différents stages et formations, et participe à divers festivals, notamment le « Bois qui Chante » en Suisse, et ouvre son atelier à Minerve (Hérault).
Il y fabrique de nombreux instruments souvent d'inspiration médiévale, organistrums, chifonnies, vièles à archet, etc., pour des groupes amis, « Aux Couleurs du Moyen-Âge » et « Taberna » entre autres. C'est la découverte du festival de Saint-Chartier et son engouement pour les vielles à roues qui va l'encourager à déménager en 2000 et à installer son atelier à La Séchère, sur la commune de Chassignolles (Indre). Jeanne sa compagne l'y rejoint bien vite. Il y fabrique ses propres modèles de vielles, des copies d'anciennes, et restaure les vielles des luthiers du passé.
Bien implanté dans la région, hyperactif, rapidement il rejoint la classe nouvellement créée de lutherie du lycée de La Châtre et enseigne sans jamais se fatiguer la lutherie à ses élèves. Avec la générosité qui le caractérisait, il allait jusqu'à les accompagner à Vichy lors des ventes aux enchères pour leur faire étudier certains modèles proposés à la vente, instruments plus faciles d'accès que ceux conservés dans les musées. Il s'est aussi constitué une jolie collection d'instruments anciens, surtout de vielles en restaurant et vendant certaines, et en en gardant d'autres pour les jouer… Il a emmené certains de ses élèves jusqu'à des récompenses nationales « Métiers d'Art » et laisse à tous le souvenir d'un géant magnifique, passionné et passionnant."

Françoise et Daniel Sinier de Ridder
La collection de vielles de Raymond Chance
Parmi cet ensemble d'une quinzaine de vieilles à roue provenant de la collection de Raymond Chance, deux sont particulièrement intéressantes et à forte charge symbolique, car il s'agit d'instruments de sa propre réalisation.
Ces beaux modèles témoignent d'un souci de raffinement très élevé et d'un grand savoir-faire, acquis au contact des œuvres des maîtres anciens. Les deux vielles rendent compte de sa réelle aisance dans l'exécution et de son amour pour l'ornement d'inspiration ancienne.
Voyez ainsi cette spectaculaire vielle plate à Minerve et cette grande vieille à roue de modèle baroque à colonnettes… Également de la main de Raymond Chance, un exceptionnel organistrum sera présenté aux enchères, ainsi qu'une guitare jazz manouche, une vielle à roue et des parties de vieilles.
Un choix éclairé de modèles de maitres anciens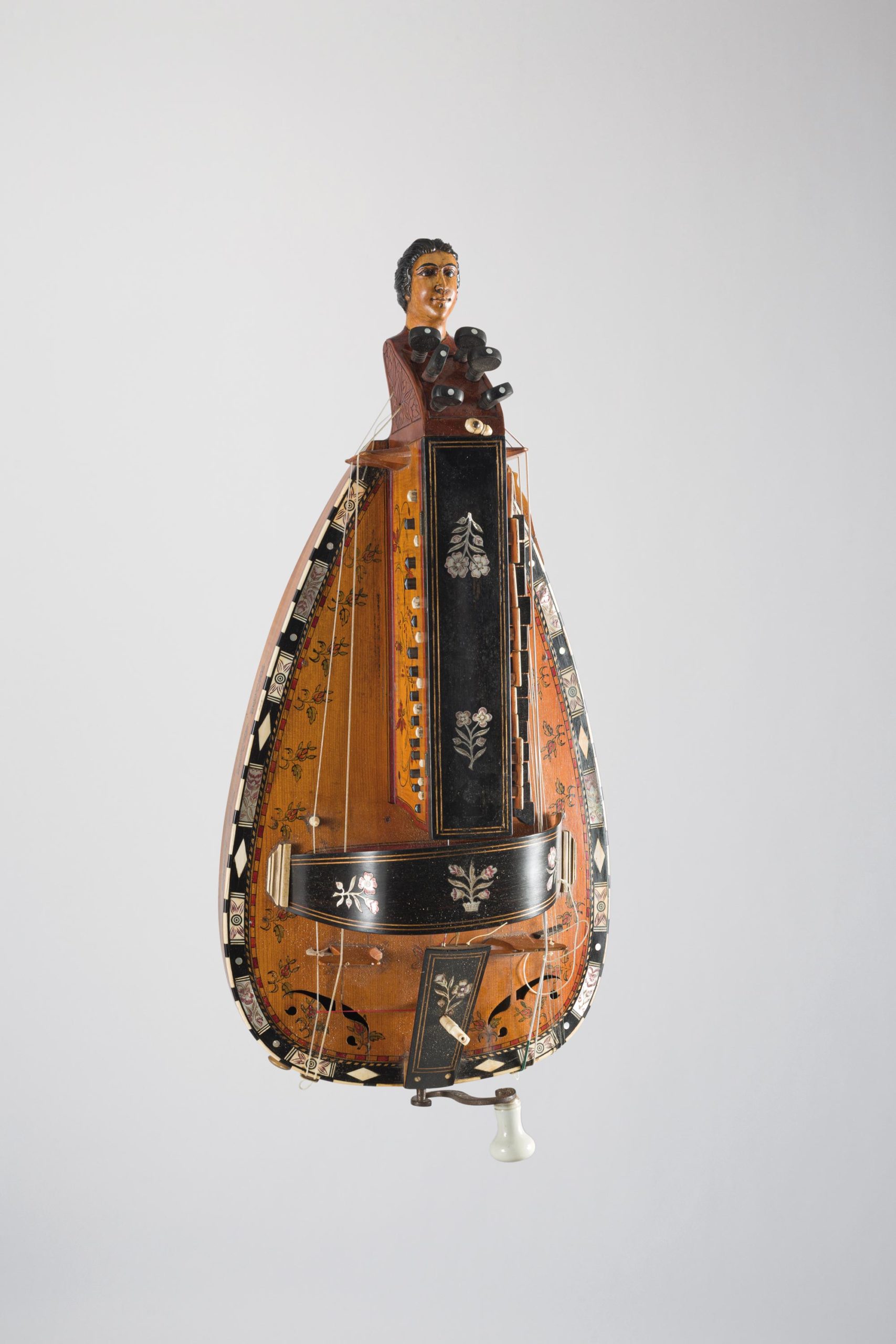 Facteur et restaurateur d'instruments, Raymond Chance a su, grâce à son regard expert, choisir des instruments toujours plus intéressants les uns que les autres. La partie de sa collection présentée aux enchères le 7 mai 2022 en offre un bel aperçu puisqu'elle rassemble des vielles des plus grands noms de la spécialité : Cailhe-Décante, Nigout, Tixier, Pajot fils ou encore Pimpart… Pour ne citer qu'eux. Découvrez en images cette belle sélection et rendez-vous à Vichy les 5 mai 2022 de 14h30 à 18h00, 6 mai 2022 de 10h00 à 12h00 et 7 mai 2022 de 10h00 à 12h00 pour les expositions, suivies de leur vente le 7 mai à partir de 14h00. A bientôt !
Nous remercions chaleureusement Françoise et Daniel Sinier de Ridder pour la rédaction du portrait de Raymond Chance.
---
A TRIBUTE TO RAYMOND CHANCE AND HIS PASSION FOR HURDY-GURDIES
The sale of 7 May 2022 should delight lovers of hurdy-gurdies as it will include a large group of 15 examples by master makers from the collection of maker Raymond Chance.
The entire Vichy Enchères team would like to pay tribute to this unique personality in the world of music and instrument making, who was passionate about old instruments and was always keen to pass on his knowledge and share his passion.
He was a familiar face at Vichy Enchères sales, and we have had the pleasure of working with him over the years, as have many of our musician and expert friends, such as Françoise and Daniel Sinier de Ridder. They provide us below a beautiful tribute to this great collector and connoisseur of hurdy-gurdies.
---
Raymond Chance during a course at Lycée George Sand La Châtre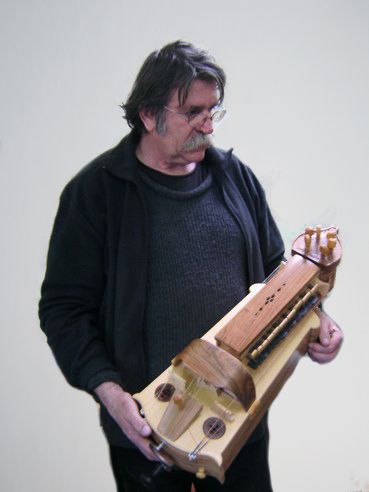 "Raymond Chance was born in March 1947 in Haute-Garonne, from where he always kept the tonic and singing accent, and died in La Séchère on 23 August 2019.
After the first part of his life, about which he always chose to remain discreet, he discovered lutherie, focusing in particular on medieval instruments. This new passion led him to take up various courses and trainings, and participate in several festivals, in particular the "Bois qui Chante" in Switzerland. He opened his workshop in Minerve (Hérault).
There he made many instruments, often of medieval inspiration, such as organistrums, chifonnies, bowed fiddles, etc., for groups of friends, including "Aux Couleurs du Moyen-Âge" and "Taberna" amongst others. It was the discovery of the Saint-Chartier festival and his enthusiasm for hurdy-gurdies that encouraged him to move in 2000 and set up his studio in La Séchère, in the commune of Chassignolles (Indre). Jeanne, his companion, soon joined him. He manufactured his own models of hurdy-gurdy there, copied of old ones, and restored others by luthiers of the past.
He became well established and very active in the region, and quickly joined the newly created lutherie course at the Lycée de La Châtre, where he tirelessly taught lutherie to his students. His characteristic generosity led him to accompany them to Vichy during auctions to provide them with the opportunity to study certain examples for sale, as these instruments were easier to access than those kept in museums. He also built up a beautiful collection of old instruments, in particular hurdy-gurdies, restoring and selling some of them, whilst keeping others for himself to play on. Some of his students went on to earn national "Métiers d'Art' awards, and he will be remembered as a magnificent, passionate and fascinating individual."

Françoise et Daniel Sinier de Ridder
Raymond Chance's hurdy-gurdy collection
Amongst this group of about 15 hurdy-gurdies from Raymond Chance's collection, two are of particular interest and have a strong personal connection to him, as they are instruments he made himself.
These beautiful examples attest to his great concern for refinement and his superior craftsmanship, acquired through exposure to the works of the old masters. These two hurdy-gurdies reflect his ability in the execution and his love for ornamentation in the ancient tradition.
Please see below a spectacular flat hurdy-gurdy with Minerva and a large Baroque style hurdy-gurdy with small columns. An exceptional organistrum, also made by Raymond Chance, will be included in the auction, as well as a gypsy jazz guitar, a hurdy-gurdy and parts of hurdy-gurdies.
The enlightened use of the old masters' models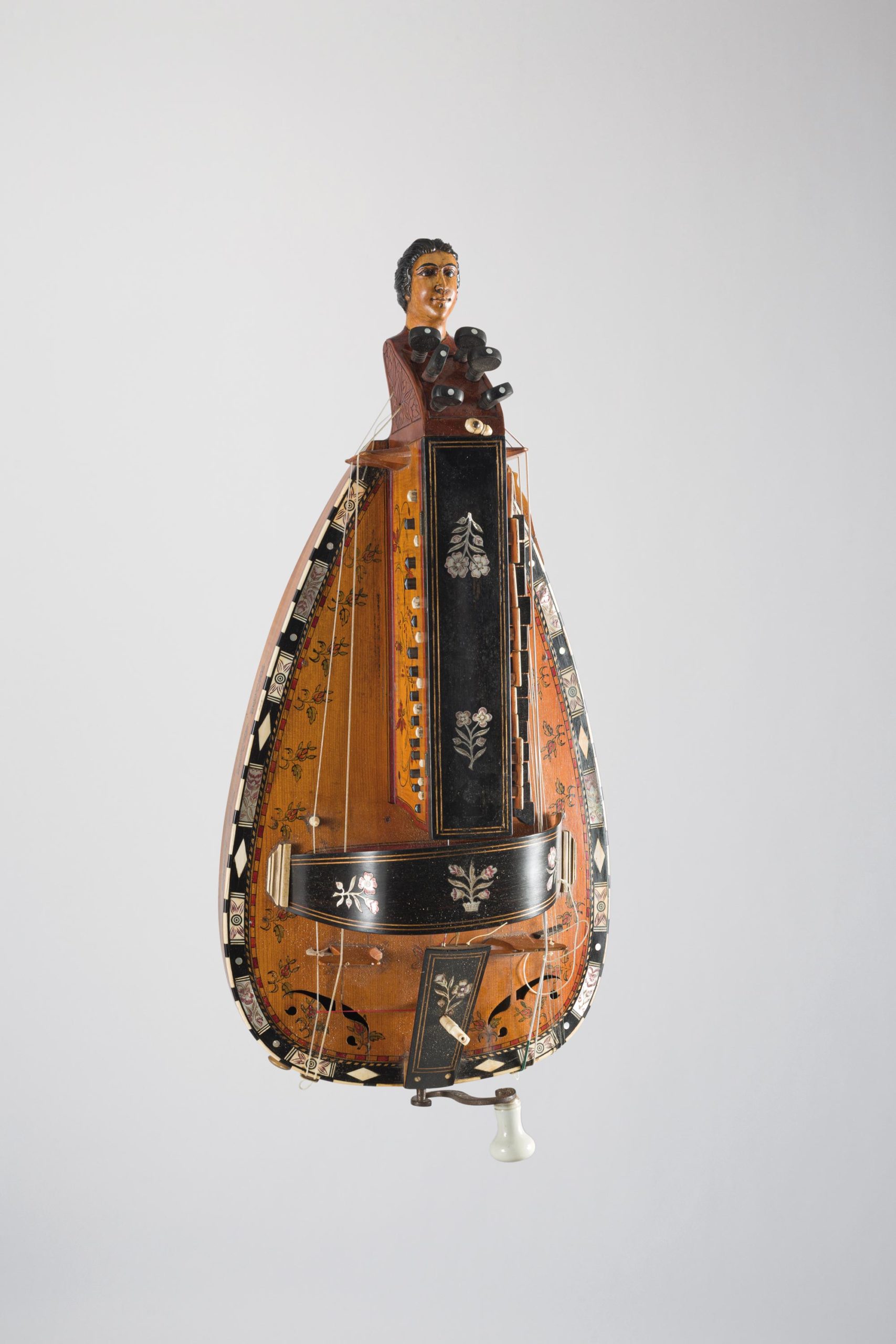 As a maker and restorer of instruments, Raymond Chance had an expert eye and knew how to pick the most interesting instruments. The part of his collection that will be auctioned on 7 May 2022 offers a good overview of it since it brings together hurdy-gurdies from the biggest names in the field: Cailhe-Décante, Nigout, Tixier, Pajot fils and Pimpart, to name only a few.
You can view photos of these instruments on our website and view them in person in Vichy on 5 May 2022 from 2:30pm to 6pm, 6 May 2022 from 10am to 12pm and 7 May 2022 from 10am to 12pm during the viewings, which will be followed by their sale on 7 May from 2pm. See you then!
We wish to extend our gratitude to Françoise and Daniel Sinier de Ridder for writing the tribute to Raymond Chance.
---