Un archet de violon d'Etienne Pajeot ayant appartenu à Philippe Arrii-Blachette
Le 30 novembre 2023, un bel archet de violon d'Etienne Pajeot, réalisé vers 1820, sera mis en vente à Vichy Enchères. Pendant plus de 30 ans, cet instrument fut joué par Philippe Arrii-Blachette, l'un des pionniers de la musique contemporaine en France, dont la carrière témoigne d'un grand dévouement à la musique et à sa diffusion.
---
Philippe Arrii-Blachette
Les premiers échos : formation et reconnaissance
La pratique de la musique a été introduite dans la vie de Philippe Arrii-Blachette à l'âge de 10 ans, alors guidé par ses parents dans le choix de son instrument, le violon. A la suite d'un concours, il entre au Conservatoire de Nice sous la houlette de Charles Bistesi, qui fut également professeur de Christian Ferras. Son talent naturel et prometteur lui permet d'intégrer le prestigieux Conservatoire de Paris à seulement 13 ans, et la classe de Roland Charmy. Les prix ne tardent pas à venir puisqu'il décroche celui de violon et celui de musique de chambre du C.N.S.M. de Paris, l'amenant à des sessions de perfectionnement avec les renommés Jacques Thibaud et Henryk Szerynk, puis l'obtention du prix du Concours International de Mexico.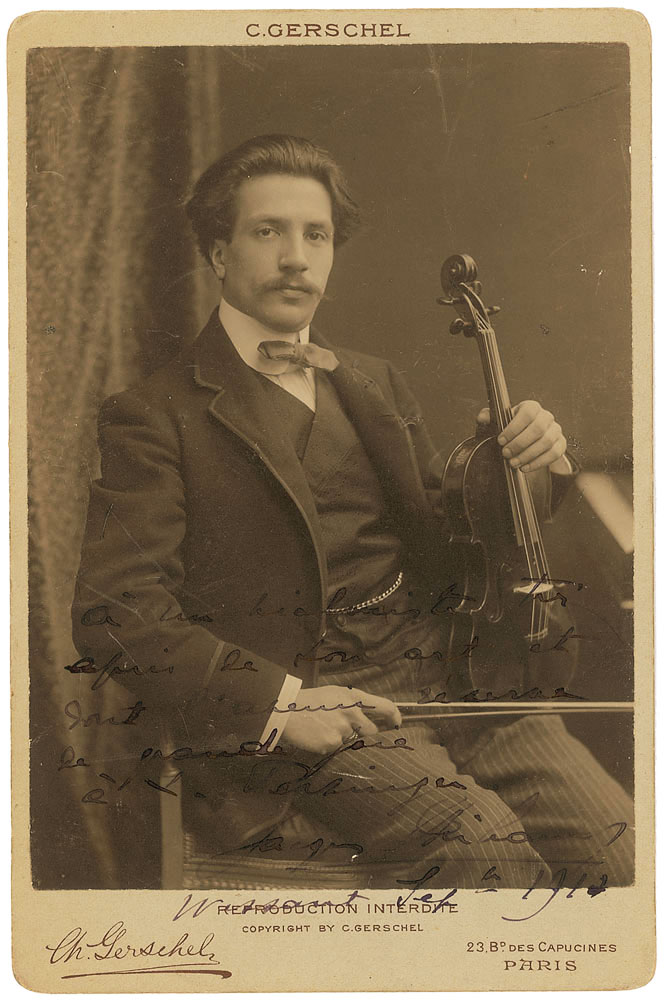 Sur la scène internationale : tournées, enregistrements, et production
La réputation d'Arrii-Blachette ne tarde pas à franchir les frontières et à le propulser sur la scène internationale, que ce soit à l'occasion de tournées européennes en tant que soliste sous la direction de chefs d'orchestre de renom tels que Louis de Froment et Hans Swarowsky, ou pour une série de concerts en Amérique Latine avec le pianiste Pierre Vozlinski. Parallèlement, son goût pour la musique contemporaine l'amène à collaborer avec des groupes de recherche musicale, à l'instar de G.R.M. (Groupe de Recherche Musicale) et G.E.R.M. (Groupe d'études et de recherches musicales).
Il réalise notamment des enregistrements radiophoniques diffusés à grande échelle, de la Suisse Romande à Radio-Stuttgart et Radio-France, mettant en lumière des œuvres du XXe siècle.
Participant à cette même volonté de transmission de la culture, il produit, entre 1970 et 1974, près de 80 émissions musicales pour la télévision, dont la «Musique en 33 Tours», «La Rose des Vents», et «La Musique et Nous».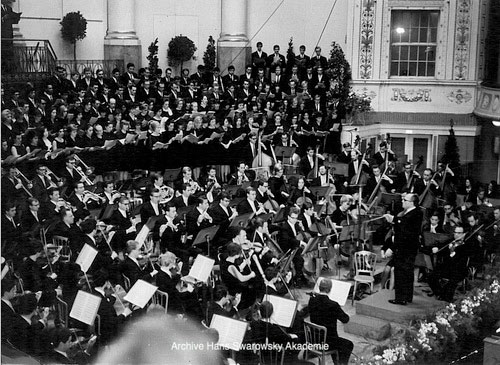 Direction et innovation : la diffusion de la musique contemporaine
Entre 1978 et 1983, il participe à la diffusion de la musique contemporaine en tant que violon solo de l'ensemble 2E2M, spécialisé dans l'interprétation des œuvres des XXe et XXIe siècles. Philippe Arrii-Blachette exprime également tout son talent pendant plus de 25 ans à la tête de l'ensemble Sillages qu'il a créé en 1992. Sous sa direction, Sillages devient une formation emblématique, cherchant à travers les compositeurs contemporains de nouvelles expressions pour les musiciens. Ce travail donne naissance à des représentations puissantes et émouvantes, fusionnant la passion du chef d'orchestre avec les visions innovantes des compositeurs. En tant que chef d'orchestre, il dirige un vaste panel d'œuvres contemporaines et collabore avec Yves Klein de 1959 à 1962, notamment sur les problèmes de l'interprétation de sa Symphonie Monoton-Silence. Après son décès, il dirige cette Symphonie fréquemment dans des musées ou des galeries avec des formations orchestrales différentes. A l'occasion de la rétrospective Yves Klein au Centre Georges Pompidou en 2006, il en donne une nouvelle représentation.
L'érudit : rôle et responsabilités
Sa profonde compréhension de la musique le conduit à assumer diverses fonctions dans l'éducation et la direction de structures culturelles. De 1976 à 1981, il est professeur de violon et de musique de chambre au Conservatoire Municipal de Pantin. Il produit, de 1975 à 1985, des émissions musicales pour Radio France et devient, dès 1985, directeur du Programme Musical de France-Culture à Radio-France, et ce jusqu'en 1988.
Armé du Certificat d'Aptitude aux fonctions de directeur des Écoles de Musique, il supervise l'École Nationale de Musique de Romainville de 1975 à 1995 et l'École Nationale de Musique, Danse et Art Dramatique de Brest de 1995 à 2002.
L'archet de violon d'Etienne Pajeot
Le cheval ailé d'Arrii-Blachette
Pendant près d'une trentaine d'années, cet archet de violon fut joué par Philippe Arrii-Blachette et fut son instrument préféré :
"Oui ce fut mon compagnon de route, celui que l'on choisit pour ses qualités… dès mon premier contact j'ai été frappé par sa réactivité et ceci dans tous les registres, c'est-à-dire la puissance et la légèreté, c'est un grand atout.

Dans le répertoire des mélodistes romantiques, Brahms, Schumann… sa présence « dans la corde » est impressionnante et il répond admirablement aux inflexions agogiques du phrasé.

Pour Bach et ses Sonates et Partitas pour violon, seul cet archet épouse merveilleusement les accords à 3 ou à 4 sons et il devient presque facile de faire ressortir la voix prépondérante de ces accords… Pour la légèreté et le répertoire très virtuose, Paganini, final du concerto de Mendelssohn… il est surprenant de précision.

Je ne suis pas spécialiste de la facture des archets, mais je pense que le bois de pernambouc dont il est fait est exceptionnel, que son poids est idéal et que son équilibre est parfait.

Cet archet d'Étienne Pajeot me fait penser à un « cheval ailé » tel le cheval que monte Roland dans Roland Furieux de L'Arioste, à la fois puissant et aérien."

Philippe Arrii-Blachette, le 19 octobre 2023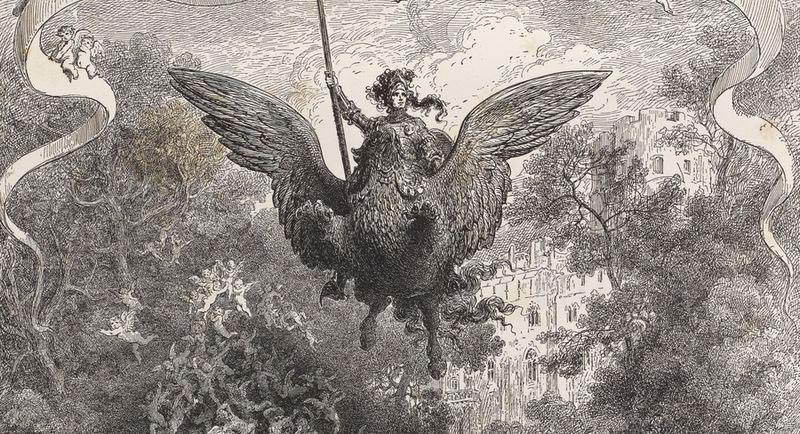 Un archet remarquable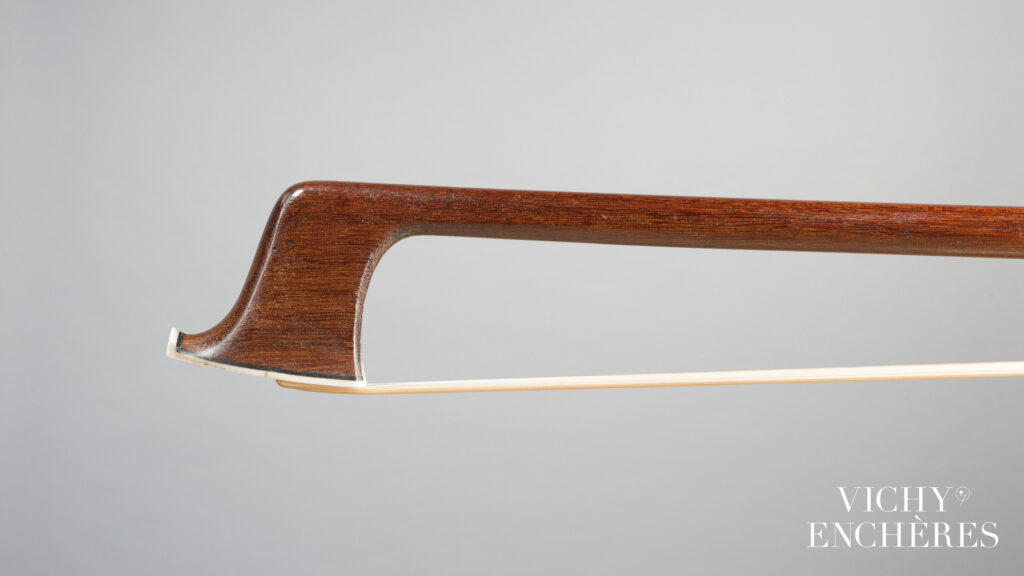 Réalisé vers 1820, l'instrument est typique du travail de première époque de Pajeot qui se libère progressivement de l'influence et du style de son père, Louis Simon Pajeot, mort depuis 1804 et avec qui il s'est formé certainement de ses 10 à 13 ans. Il porte ainsi la marque d'Etienne Pajeot, "PAJEOT." et non celle du père.
"La caractéristique principale de cet archet réside dans sa tête très pleine, qui le rend très intéressant et particulièrement beau."

---

Sylvain Bigot et Yannick Le Canu, experts en archets
Comme le soulignent les experts en archets Sylvain Bigot et Yannick Le Canu, cet instrument a l'originalité de se démarquer par son traitement de tête et ses joues assez pleines, à la différence des modèles plus connus aux têtes davantage triangulaires.
Typique des archets de la première époque d'Etienne Pajeot, la hausse est basse, un peu longue, plutôt massive et ramassée, avec un dégorgement et un passant courts.
Les viroles sont plutôt fines, ce qui agrémente l'ensemble d'une touche de délicatesse.
Cet archet témoigne également du caractère de Pajeot et de son souci du détail et du travail bien fait :
"L'archetier, toujours à la recherche de l'archet le plus abouti, n'hésite pas à se compliquer le travail en martelant ses viroles et en montant ses boutons octogone/octogone."

---

Sylvain Bigot et Yannick Le Canu, experts en archets
Étienne Pajeot
Étienne Pajeot est considéré comme l'un des archetiers les plus talentueux de sa génération, laissant derrière lui des archets de grande qualité, reconnus aussi bien pour leurs qualités sonores qu'esthétiques. Bien qu'il demeura toute sa vie à Mirecourt, Pajeot se tint informé des innovations parisiennes, notamment grâce à sa collaboration avec Charles François Gand, et fit preuve d'une grande ingéniosité.
Pour en savoir plus sur Etienne Pajeot, consultez notre dossier :
Rendez-vous à Vichy Enchères ou sur Interencheres le 30 novembre 2023 pour la vente de ce remarquable archet d'Etienne Pajeot ayant appartenu à Philippe Arrii-Blachette, l'un des plus grands représentants de la musique contemporaine.
---
A VIOLIN BOW BY ETIENNE PAJEOT WHICH BELONGED TO PHILIPPE ARRII-BLACHETTE
On 30 November 2023, a beautiful violin bow by Etienne Pajeot, made around 1820, will be sold at Vichy Enchères. For over 30 years, this bow was played by Philippe Arrii-Blachette, one of the pioneers of contemporary music in France, who was devoted to music and its spread throughout his career.
---
Philippe Arrii-Blachette
His first steps: training and recognition
Philippe Arrii-Blachette started practicing music at the age of 10, and he was guided in his choice of instrument, the violin, by his parents. After success at a competition, he entered the Nice Conservatory under the tutelage of Charles Bistesi, who was also Christian Ferras's teacher. His natural and promising talent led him to join the class of Roland Charmy at the prestigious Paris Conservatory, aged only 13. Awards soon followed: he won the violin and chamber music prizes from the C.N.S.M. in Paris – giving him the opportunity to attend master classes with the renowned Jacques Thibaud and Henryk Szerynk – and, subsequently, the prize of the Mexico International Competition.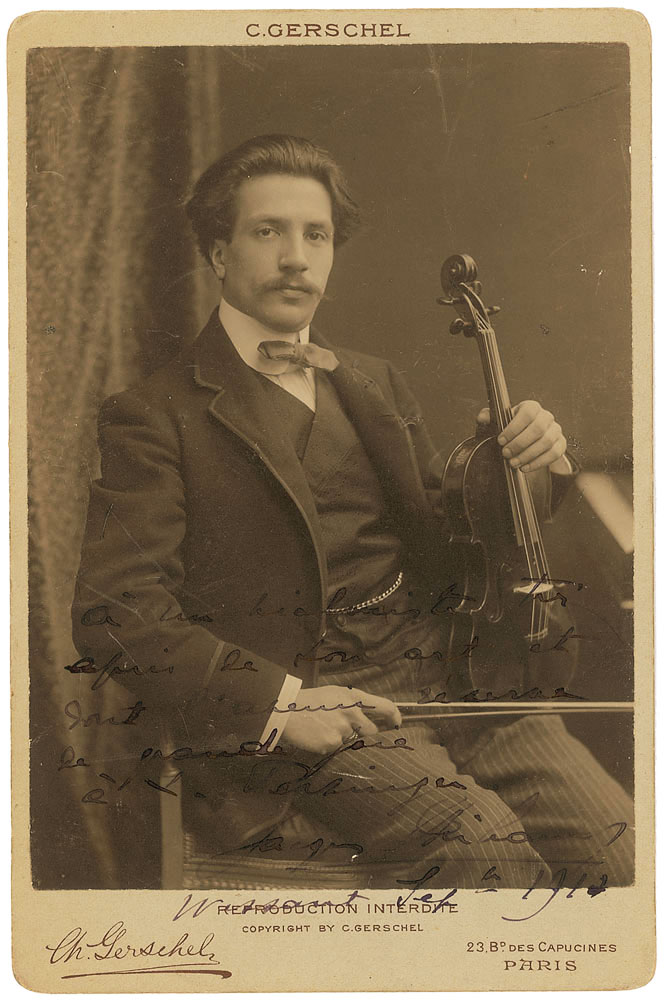 On the international stage: touring, recording and producing
Arrii-Blachette's reputation soon crossed borders and propelled him onto the international stage, through European tours as a soloist under the direction of renowned conductors such as Louis by Froment and Hans Swarowsky, and for a series of concerts in Latin America with pianist Pierre Vozlinski. Meanwhile, his taste for contemporary music led him to collaborate with musical research groups, such as the G.R.M. (Groupe de Recherche Musicale) and G.E.R.M. (Groupe d'Etudes et de Recherches Musicales).
In particular, he recorded 20th century works that were broadcast internationally, through Radio-Stuttgart and Radio-France, but also in French-speaking Switzerland. This same desire to transmit culture led him to produce, between 1970 and 1974, nearly 80 musical programmes for television, including «Musique en 33 Tours», «La Rose des Vents» and «La Musique et Nous».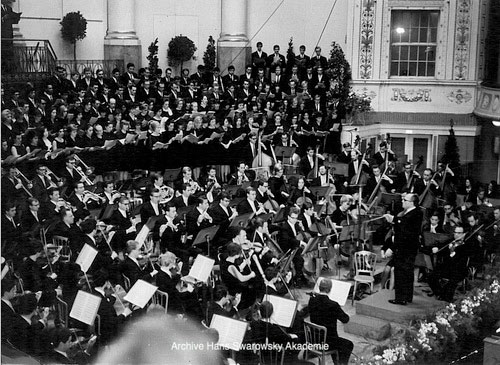 An innovative conductor: the spread of contemporary music
Between 1978 and 1983, he was part of the effort to spread contemporary music as concertmaster of the 2E2M ensemble, which specialized in the interpretation of works from the 20th and 21st centuries. For over 25 years, Philippe Arrii-Blachette was also the talented leader of the Sillages ensemble, which he formed in 1992. Under his direction, Sillages became an iconic ensemble, seeking new musical expression through works by contemporary composers. It gave powerful and moving performances, combining the conductor's passion with the visionary expression of the composers. As conductor, he worked on a wide range of contemporary works, and collaborated with Yves Klein from 1959 to 1962, notably on his complex Monotone-Silence Symphony. After Klein's death, he frequently conducted this work in museums and galleries, with different orchestral formations. During the Yves Klein retrospective at the Georges Pompidou Centre in 2006, he performed a new interpretation of the work.
The scholar: role and responsibilities
His deep understanding of music led him to take on various positions in education and the management of cultural organisations. From 1976 to 1981, he was professor of violin and chamber music at the Municipal Conservatory of Pantin. From 1975 to 1985, he produced musical programmes for Radio France and was, from 1985 to 1988, director of the France-Culture's Musical Programme at Radio-France.
Having obtained the Certificate of Aptitude for the responsibilities of Music Schools' director, he supervised the National School of Music of Romainville from 1975 to 1995 and the National School of Music, Dance and Dramatic Art of Brest from 1995 to 2002.
The violin bow by Etienne Pajeot
The winged horse of Arrii-Blachette
For nearly 30 years, this violin bow was played by Philippe Arrii-Blachette, and it was his favourite:
"Yes, he was my travelling companion, the one I chose for its qualities… from the first encounter, I was struck by its responsiveness, and this in all registers, in other words its power and lightness, it's a great asset.

In the repertoire of the romantic melodists, Brahms, Schumann… its presence "on the string" is impressive and it responds admirably to agogic accents in the phrasing.

For Bach and his Sonatas and Partitas for violin, it is the only bow that blends perfectly the three or four notes in chords, and effortlessly brings out the predominant voice of these chords… For lightness and the great virtuoso repertoire, Paganini, the finale of the Mendelssohn concerto… it is surprisingly precise.

I am not an expert in the manufacturing of bows, but I think that the pernambuco wood from which it is made is exceptional, and that its weight is ideal and its balance perfect.

This bow by Étienne Pajeot makes me think of a "winged horse", like the horse Roland rides in Ariosto's Roland Furieux, which is both powerful and weightless."

Philippe Arrii-Blachette, le 19 octobre 2023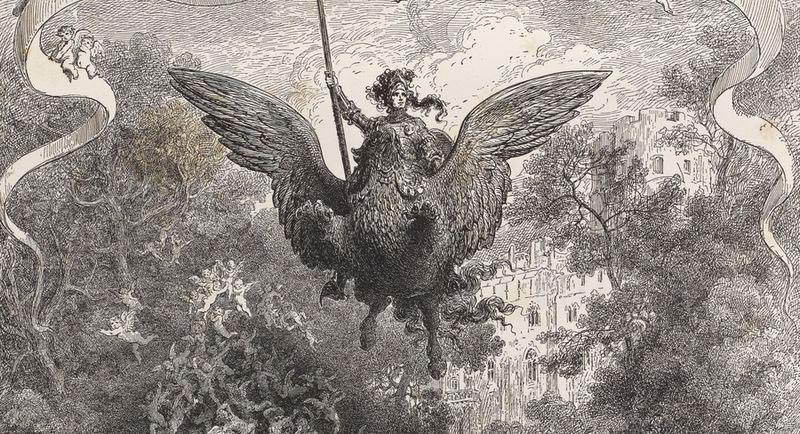 A remarkable bow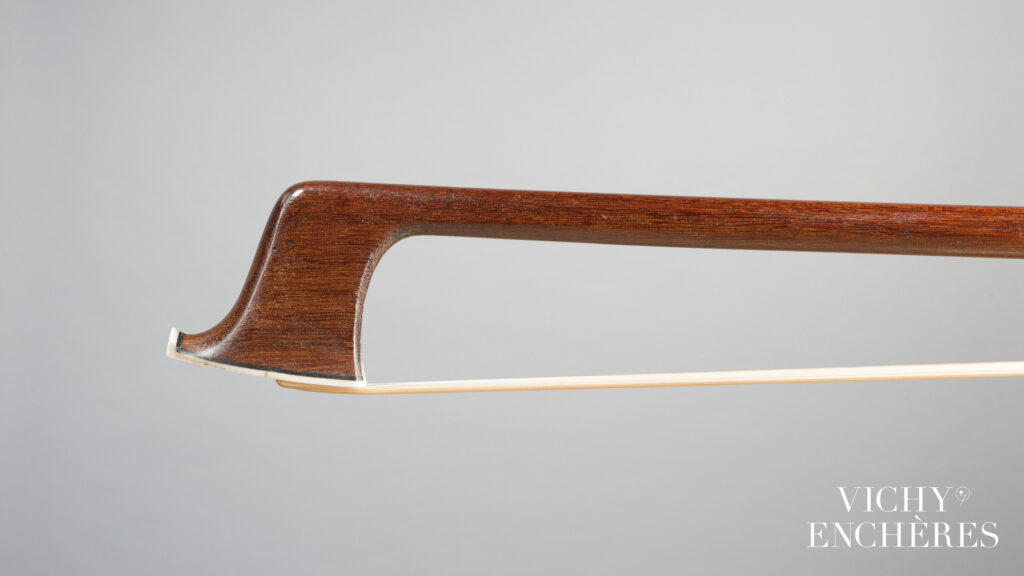 Made around 1820, the bow is typical of Pajeot's early work, which gradually moved away from the influence and style of his father, Louis Simon Pajeot. The latter, who died in 1804, most likely trained his son when he was aged between 10 and 13. It therefore bears the stamp of Etienne Pajeot, "PAJEOT.", and not that of his father.
"The most notable characteristic of this bow is its very full head, which makes it very interesting and particularly beautiful."

---

Sylvain Bigot et Yannick Le Canu, experts en archets
As bow experts Sylvain Bigot and Yannick Le Canu point out, this bow stands out for the originality of the treatment of its head and its fairly full cheeks, in contrast with the better-known models with more triangular heads.
As is typical of bows from the first period of Etienne Pajeot, the frog is low, a little long, rather substantial and compact, with a short throat and ferrule. The rings are rather narrow, which adds a touch of delicacy.
This bow also demonstrates Pajeot's character, and his attention to detail and a job well done:
"The bow maker, in his constant strive for perfection, made his task more difficult by hammering his rings and mounting them on octagon/octagon buttons."

---

Sylvain Bigot et Yannick Le Canu, experts en archets
Étienne Pajeot
Étienne Pajeot is considered as one of the most talented bow makers of his generation, and he left behind high quality bows, sought after both for their sound and appearance. Although he remained in Mirecourt all his life, Pajeot kept abreast of Parisian innovations, in particular through his collaboration with Charles François Gand, and he demonstrated great ingenuity.
To find out more about Etienne Pajeot, please refer to our dossier on him.
We invite you to Vichy Enchères or Interencheres on 30 November 2023 for the sale of this remarkable bow by Etienne Pajeot, which belonged to Philippe Arrii-Blachette, one of the greatest exponents of contemporary music.